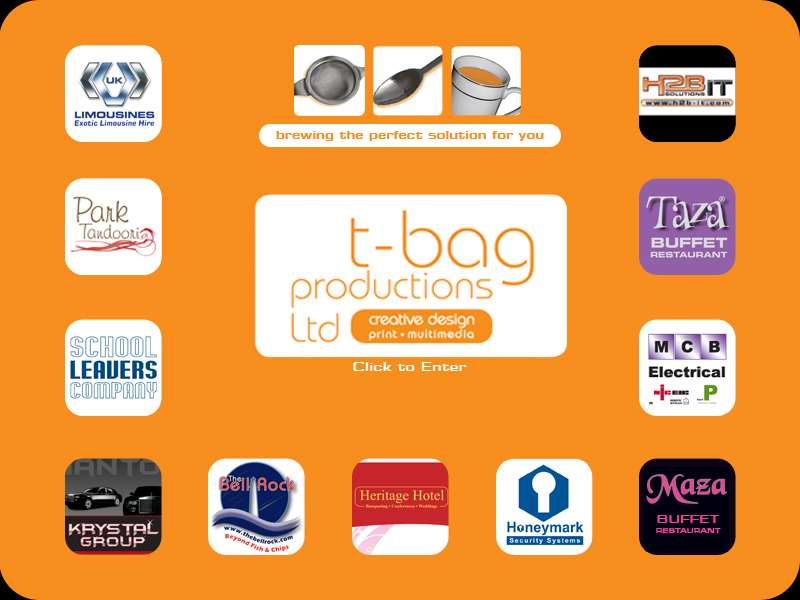 Splash Page • Home • Portfolio • Branding • Design • Print • Direct Mail • Multimedia • Web Design • Exhibition Graphics • Brochures • Marketing • Signage & Vehicles • Site Map
© All Copyright Reserved by T-Bag Productions Ltd
TAG CLOUDS
PRINT Business Cards
Letterheads DESIGN Stationary Brochures
Flyers Logos BRANDING Menus Derby
Nottingham Leaflets Banners Popup displays Menu Holders
Website Design Direct Mail Signage Taxi Cards Package design Marketing
Effective design Innovative design and print Laminating
Corporate print and design
Printing Services & Design Services Derby, Printing Services & Design Services Nottingham, Printing Services & Design,
T-Bag Productions is a creative design and printing company, specialising in design and print services in the Midlands for many products including large and small format printing, banner printing, poster printing, photos displays and indoor and outdoor signage. With many years of experience we have built a large client base in many areas including our home town - Derby for multimedia, printing and marketing services.
As creative multimedia designers and printers in derby we provide great indoor and outdoor display stands for outdoor advertising and promotional signage and multimedia installations. We don't claim to be the cheapest but always competitive to genuine market quotes and providing first class customer care. We cover all surrounding areas in Derby
Printing Services Nottingham, Printer in Derby, Derby Printing, Nottingham Printing, Midlands Printing, Uk Printing.
By working alongside you, Printing and multimedia designing services in nottingham provides the full solutions for all your multimedia printing and design projects. From designing through to production and after sales, we offer you a professional, attention to detail and a creative project management for all the multimedia design & print . If required, T-Bag Productions can also manage your marketing and create you a bespoke plan with a launch pad to show off your services and sell your products. Marketing in Nottingham and other areas is essential as creating more effective & tactical campaigns will always obtain better results in creative Nottingahm and other surrounding areas..
Printing services Perth, Scotland, London, Manchester.
T-Bag Productions has now become one of the leading print and design companies in Derbyshire and Nottinghamshire and the surrounding regions. We have been working for a long time with our customers and a lot of them have expanded to regional offices. By knowing their Branding and Printing requirements, they have continuously enjoyed use of our services and products. Subsequently we now work on various print, design, direct mail and marketing promotion in Perth, Scotland, Arbroath, Manchester, Nottinghamshire, Derbyshire, London and Bedforshire plus the surrounding areas.
By incorporating design, marketing and digital & litho printing facilities, T-Bag productions can guarantee customer satisfaction in printing services across the Uk and East Midlands. We continue to grow our client base by providing high quality work in all areas of the UK and and now Spain. While offering multimedia printing services in Derbyshire we have remained ahead of our competition by listening to our customer's needs and requirements.
We offer a full design and creative service to help your message stand out from the crowd. We will take your project from original concept through proofing, printing, launch and provision, ensuring that the final product reflects the importance of your company Branding and image. Whether it is a business card or a complete corporate identity. Good design persuades and encourages, poor design can be more damaging to your image than you'd think.
Tbag Productions Ltd
Print, Design, Signange, Branding, Direct Mail and Marketing. (Brochures, Leaflets, Stationary, logos, signange, interactive files, Websites, marketing and promotions - to name but a few)
Unit 5, 8 Bessel Lane, Stapleford, Nottinghamshire, NG9 7BX.
Tel:01332 37 20 20. Email:
info@tbagproductions.com