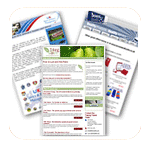 Direct Mail & Marketing



Firstly Direct Mail

-
Mailshots are a brilliant form of advertising. More and more businesses, large and small, are seeing the effectiveness of building customer relationships by post. Whether it's a 'warm' personalised mailshot or a 'cold' un-addressed door drop, mail can be an extremely targeted, personal and creative way to engage people.
We can start from designing the direct mail, whether its a brochure or a special offer, there's various methods you can harness. Then we can obtain a mailing list with a certain criteria, like 'New Start businesses' or use yours. Overprint addresses onto the envelopes or direct onto the mailing items. and have them sorted and delivered through business post at a
fraction of what Royal Mail Charge
you, through our buying power and affiliation. Beating the backlog of the Postal strike which can harm the best laid plans.
Email Marketing is the next step or you can substitute a whole email campaign for the direct mail route. Talk to us and we will expand on the unique steps that will help raise the awareness of your products and services...
not forgetting though.....
It's what you would like to achieve that's important to us.