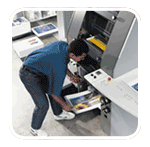 Digital & Lithographical Print Productions


Tbag Productions offers a complete design through to distribution print procurement and management service. Our knowledge and experience allows us to remove the hassle and reduce the cost of operational and creative print.
We give clients a single point of contact and one point of accountability: no arguments, finger pointing or blame; our responsibility. We enable clients to achieve greater economies of scale as we pass on cost savings that we can achieve as we regularly print.
And finally, we add value. We work hard to provide unbiased advice to our clients on the most cost effective production methods. We keep them in touch with the latest industry advances and help identify new opportunities for corporate communications.
Choosing Digital & Lithographical Print depends on quantity, quality and overall achievement. We use a combination to get the perfect results.
not forgetting though.....
It's what you would like to achieve that's important to us.